This article is a quality article.
Doc Louis's Punch-Out!! is a video game developed for the WiiWare service of the Nintendo Wii console by Next Level Games. It is a spin-off of Punch-Out!! and uses the same mechanics as that game, although it only features three different matches: Warm-Up, Training, and Sparring. The game was announced on July 14, 2009 as an upcoming reward for Club Nintendo members who reached Platinum status on the website by June 30, 2009. The game was exclusive to 2009 Club Nintendo Platinum members in North America, but it became available to all Club Nintendo members on February 2, 2015, as part of the closing of Club Nintendo. Due to the permanent closure of the Wii Shop Channel as of early 2019, you can no longer re-download or obtain this game in any official manner.
Blurb (Pre-release)
[
]
It's Little Mac vs. Doc Louis!! Step into Little Mac's shoes and challenge your mentor and coach, Doc Louis, to prove you have what it takes to become the World Video Boxing Association World Champion.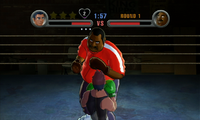 This unique one-on-one bout builds off of the fun and excitement found in the retail version of Punch-Out!!™ for the Wii™ console, and is designed exclusively for 2009 Club Nintendo Platinum Members (USA and Canada) as a free download. This gift will not be available anywhere else!!
ESRB Rating: Everyone 10+
(Broadband internet access is required to receive this download to your Wii console.)
(You do NOT need to own the retail version of Punch-Out!! to download this reward.)
Premise
[
]
Doc Louis's Punch-Out!! may be a prequel to 2009's Punch-Out!!, as Little Mac can be seen fitted with the same clothing and equipment he uses in the Minor Circuit and earlier, and he and Doc Louis are training in the gym that is used for the practice mode of Punch-Out!!. As such, it is possible that Doc Louis's Punch-Out!! may center around the training Little Mac goes through before his climb to champion of the World Video Boxing Association.
Trivia
[
]
In the blurb for Doc Louis's Punch-Out!! The blurb states that this offer (the game) will not be available anywhere else. However, Nintendo put this game up as an offer to Club Nintendo members for 250 coins in February 2015 due to Club Nintendo planning on closing down.
In Sparring mode, when Doc Louis brandishes his chocolate bar to eat it, if the player punches it out of the ring the first time, he says "NO! NOW YOU'VE DONE IT! You won't like Doc when he's angry," he rips open his usual red jacket to reveal a leopard skin-looking shirt, and the sound flashes an alarm while the screen flashes an alert saying "WVBA Message: Removal of Doc Louis's chocolate bar may be hazardous to your health. The WVBA is not responsible for any increased frustration from this point forward." Doc Louis will then eat the chocolate and change the order of his attacks. It is possible to avoid this state by using a Star Punch on the chocolate bar when his health is low, or by using his instant knockout (3-star punch into a shuffle attack).