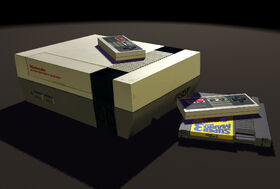 The Nintendo Entertainment System, or NES for short is the first system designed and published by Nintendo. To date, the Nintendo Entertainment System is one of the most successful consoles of all time. The Nintendo Entertainment System is also one of the most critically acclaimed consoles, making number one on IGN's Top 25 Consoles. Nintendo was just starting it's video game production and released many titles for the NES. One of the titles was Punch Out!!.
Punch Out!!
[
]
Main Article: Punch Out!!
Punch-Out!!, known originally as Mike Tyson's Punch-Out!! (マイクタイソン・パンチアウト!!?), and later re-released as Punch-Out!! Featuring Mr. Dream is a boxing video game for the Nintendo Entertainment System (NES) developed and published by Nintendo in 1987. It is a port of both the Punch-Out!! and Super Punch-Out!! arcade games with some variations. It has consistently been ranked among the best games released for the NES platform.