Punch-Out!!

Boxing box art
Developer(s)
Nintendo R&D1
Publisher(s)
Nintendo
Distributor(s)
Nintendo
Platform(s)
Micro vs. System
Release date
July 31, 1984
Genre(s)
Sports game
Mode(s)
Single-player, two-player
Media
Cartridge
Input methods
Gamepad
Punch-Out!! (originally released as Boxing) is a portable Micro vs. System game released on July 31, 1984, the same year the Punch-Out!! series made its arcade debut. On February 28, 1988, months after the series' console debut, the Boxing Micro vs. System was reissued under the name Punch-Out!!. The object of the game is to back the opponent into their corner of the ring and throw a knockout punch.
This game was included in Game & Watch Gallery 4 the Game Boy Advance, where it appears as Boxing. The remix mode, a mode where the game is remade with modern graphics, has Luigi fighting other Nintendo characters like Wiggler, a Boo, and Waluigi.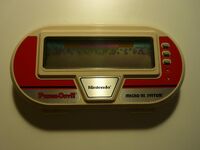 External links
Edit
Community content is available under
CC-BY-SA
unless otherwise noted.