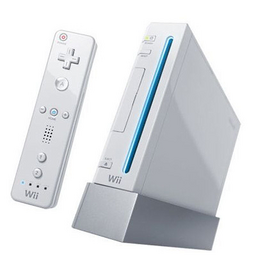 The Wii is a video game system made by Nintendo. It Came out in North America in November 2006. Currently, there is only one Punch Out!! game for the Wii. However, there is a Special WiiWare game called Doc Louis's Punch-Out!!.
Doc Louis' Punch Out!!
Edit
Main Article: Doc Louis's Punch-Out!!
Doc Louis's Punch-Out!! is a video game developed for the WiiWare service of the Nintendo Wii console by Next Level Games. It is a spin-off of Punch-Out!!, released earlier this year, and uses the same mechanics as that game, although it only features three different matches: Warm-Up, Training, and Sparring. The game was announced on July 14, 2009 as an upcoming reward for Club Nintendo members who reached Platinum status on the website by June 30, 2009. While the game is currently exclusive to 2009 Club Nintendo Platinum members in North America, it is uncertain if the game will see a broader worldwide release in the future, although its blurb implies that Nintendo does not plan to reissue it.
Main Article: Punch-Out!! (Wii)
Punch-Out!! (パンチアウト!!, Panchi-Auto!!?) is the title of the most recent game in the Punch-Out!! series. It was developed by Canadian game developer Next Level Games, released on the Wii and published by Nintendo. It was first revealed at Nintendo's conference on October 2, 2008. It was released on May 18, 2009 , but was released on May 16th at the Nintendo World Store launch party. In an interview on October 9, 2008, Charlie Scibetta, Senior Director of Corporate Communications for Nintendo of America, confirmed motion control will be used in this game. NES-style controls were also confirmed to be in the game.
Community content is available under
CC-BY-SA
unless otherwise noted.